Gluten Free Society Certified Doctors and Health Care Providers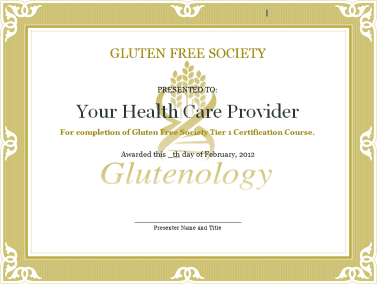 As part of our mission to reach more people, Gluten Free Society provides education to physicians, nurses, nutritionists, and other health care providers on gluten sensitivity. This ensures that their is a sound foundation of knowledge pertaining to gluten and it's related diseases among our health leaders. Below is a database of providers who have satisfied the criteria and met the educational criteria set forth by the world's leading authority on gluten sensitivity – Gluten Free Society
Click here to access our health care provider database  <<==

More About Gluten Free Society's Certification Program…
Our certification program is broken down into three tiers. These tiers are graded from basic (Tier 1), to intermediate (Tier 2), to Advanced (Tier 3).
Tier 1 Certified
Tier 1 certified health care practitioners have completed a 2 hour continuing education course on gluten sensitivity. This course is designed to give an introduction to the advancements in the field of gluten research as well as to educate on the history and origin of gluten sensitivity. Tier 1 Certified health care providers are better equipped to understand, identify, and treat patients with gluten sensitivity issues. You can sign up for our new online Tier 1 Certification course here <<==
Tier 2 Certified
Tier 2 certified health care providers have completed Tier 1 educational requirements, but have also completed an advanced training seminar on the identification, diagnosis, treatment, and management of patients who are gluten sensitive. These practitioners have an advanced knowledge of lab testing and specific treatment protocols to use with patients trying to restore their health after years of gluten induced damage. If you are Tier 1 Certified, you can sign up for Tier 2 here <<<
Tier 3 Certified
Tier 3 health care providers have completed both Tier 1 and Tier 2 certification. In addition, they have reached a minimum level of experience in treating patients with gluten sensitivity. They are required to subject a minimum of 50 case studies of patients they have treated and helped using the protocols taught in Gluten Free Society's Tier 2 certification course. Tier 3 practitioners are the best of the best.
Interested in Becoming Certified?
Get started instantly with our Tier 1 online course by registering here <<==
The Tier 1 Certification course is now instantly available online!